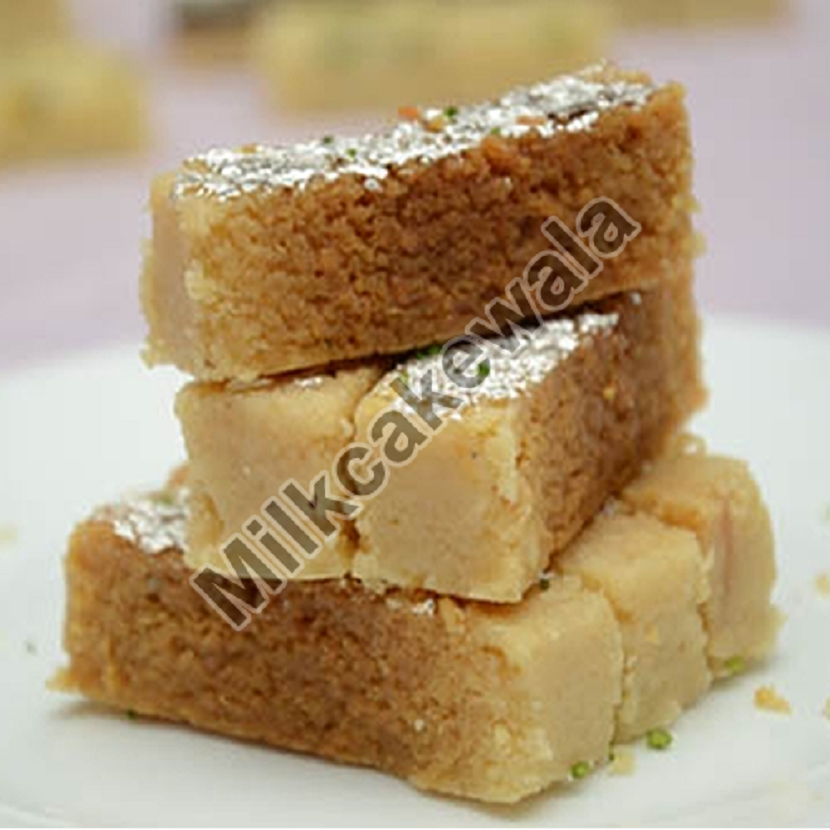 Popularly known as Alwar Ka Mawa. Milk cake is essentially a conventional Indian dessert or rather a form of milk fudge, which is relished by most Indians. At a few places, milk cake is also identified as Kalakand, however, one might notice slight changes in the appearance of both the desserts.
Milk Cake is essentially thought to have its origin in Alwar, which is a city in Rajasthan. According to the natives of Rajasthan, it is said that the person who introduced Milk Cake was originally from Pakistan. It was during the time of Partition in the year 1947, that he fled from Pakistan and finally settled in the city of Alwar. It is then, he popularized this desert in India, and it famously came to be known as Alwar ka Mawa.
Milk Cake is generally whitish-brown in color. Milk Cake conventionally has a granulose, murky and juicy texture, which at times might be a bit difficult to split it into smaller pieces. This Indian sweet dish is prepared with stiffening milk cream, ghee, sugar and adding any sort of acidic liquid.
One might consider the flavor of Milk Cake similar to that of paneer. However, it is not so. Milk Cake is known to have a very rich, dense and a creamy taste having a sort of caramelized savor with the essence of cardamom.
The milk which is used to prepare this desert is often reduced to one-third of the original quantity and is thickened further with acidic liquid. Once the desired consistency of milk is achieved, sugar is added, followed by ghee to give it a stiffer consistency.
The alum powder works as an acidic agent, that is added in the milk. The mixture of the dense milk along with ghee and sugar is poured into a mould and is kept aside for the purpose of cooling down, usually covered with a towel. It is through this process of cooling down which takes about four to eight hours, that the mixture takes up the two distinguished shades.
Many Milk Cake Manufacturers generally have diverse options apart from alum powder to use as an acidic agent. Lemon juice, curd, or citric acid powder can play the role of the acidic agent in the process of preparing Milk Cake. However, it is to be noted that the granulose texture of the Milk Cake varies depending upon the acidic agent used.
Frequently it is noticed that people consider Kalakand and Milk Cake to be the same. However, there is diminutive difference between the two. Unlike Milk Cake, which is whitish brown in colour, Kalakand is completely white. It is comparatively softer in texture and melts in the mouth easily. Moisture content is more in Kalakand when compared to Milk Cake. It is mostly Kalakand which tastes similar to paneer than Milk Cake.
Milk Cake is famous in almost the entire nation, especially in places such as Uttar Pradesh, Rajasthan, West Bengal, Haryana, etc. There are numerous Milk Cake Manufacturers in Panipat, providing the consumers with appetizing Milk Cake, the relics of which they enjoy from time to time.
Milk Cake is a sort of sweet that could be used on any occasion be it Diwali or Raksha- Bandhan or for any other auspicious religious rituals. The flavors of milk cake are savored by people belonging to all age groups be it the elders or the children.