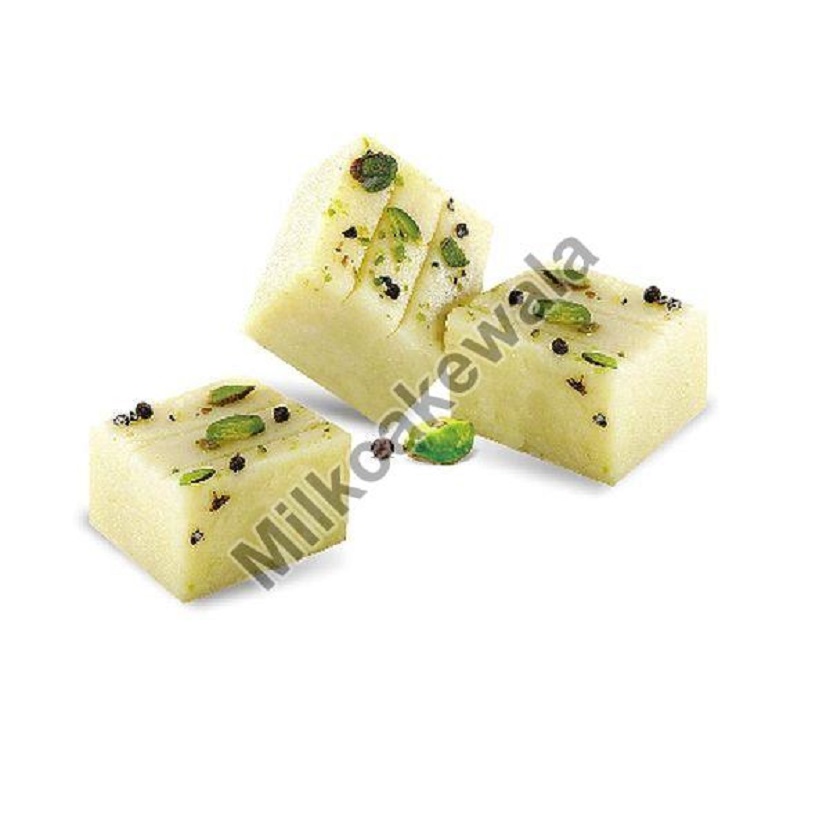 The name barfi originates from Persia, but Burfi is a traditional Indian dessert that resembles a western fudge because of its sweetness and consistency. This sweet treat belongs to a wider group of Indian mithai as there is a huge variety of burfi available in the market at every sweet shop such as milk burfi, Kaju burfi, besan burfi, coconut, and many more. It is usually made with a base of condensed milk solids called khoya, granulated sugar, and ghee, and the other most common ingredients added to the base include nuts, pistachios, cashews, and almonds. However, the taste, texture, and color of Burfi vary from region to region as the additional ingredients affect the final appearance.
Burfi is eaten throughout the country but it has immense popularity in northern India, and it is a common dessert staple served on special occasions and festivals. This sweet is often decorated with a beaten and edible silver leaf known as vark which makes it eye-catching. One of the famous types is Bikaneri Burfi which rules the hearts of most people in India. This milky-white burfi is prepared with very basic ingredients like milk, sugar, cardamom, ghee, and dry fruits. The condensed milk is boiled with sugar until it becomes solid. When cooled, the dessert to serve after cutting into your favorite shape: squares, diamonds, circles, or even cylindrical. This is garnished with the shreds of pistachios which enhances its overall look as well. It gets a refreshing taste and aroma with the addition of elaichi to the mixture that makes you feel satisfied after a meal. The texture of this burfi is extremely soft and it completely melts once it gets into the mouth. People have a special place for Bikaner sweets and this delicious mithai is enjoyed by everyone whether kids or adults. It lives up to its origin word "barfi" which comes from a Persian word called barf which means snow.
The taste of light and refreshing Bikaneri burfi has pleased the taste buds of many people all over the globe as the craze for Indian sweets is never-ending. The leading Bikaneri burfi exporter is the one who assures that sweets are prepared in compliance with food industrial quality standards. The demand for this burfi is sprouting across the world due to its unique recipe. You must carefully choose the supplier so that you get only top-quality and fresh mithai for yourself, your friends, and your families.
The suppliers and exporters of Bikaneri burfi should take due care of the following relevant aspects-
They should use high-quality 100% genuine raw materials to make these delightful desserts and sweets.
They should ensure that the quality products are cooked hygienically so that only superior quality Bikaneri burfi is prepared for their customers.
They should prepare sweets with the care of their talented employees and knowledgeable cooks who have huge experience and unique talent in making sweets that can charm anyone with their richness.
They should have a team of accomplished quality auditors who conduct regular tests regularly at each stage of preparation starting from the raw material assortment to the final dispatch to their valued clients.
They should use premium quality packaging material so that customers can enjoy the shelf life of these sweets for 7 days at least.
They should be associated with reputed logistics facilities to ensure timely delivery anywhere in the world.
They should have the capacity to meet the bulk as well as emergency orders.
Conclusion
Thus, it can be delightfully concluded that Bikaneri burfi is an all-time favorite not just in India but abroad also during any festival, special occasion, religious ceremony, and for everyday sweet cravings. Choose the best Bikaneri burfi exporter to get the best quality burfi that stays fresh and fine for a long time. To keep it intact, you must refrigerate it and store it in an airtight container.