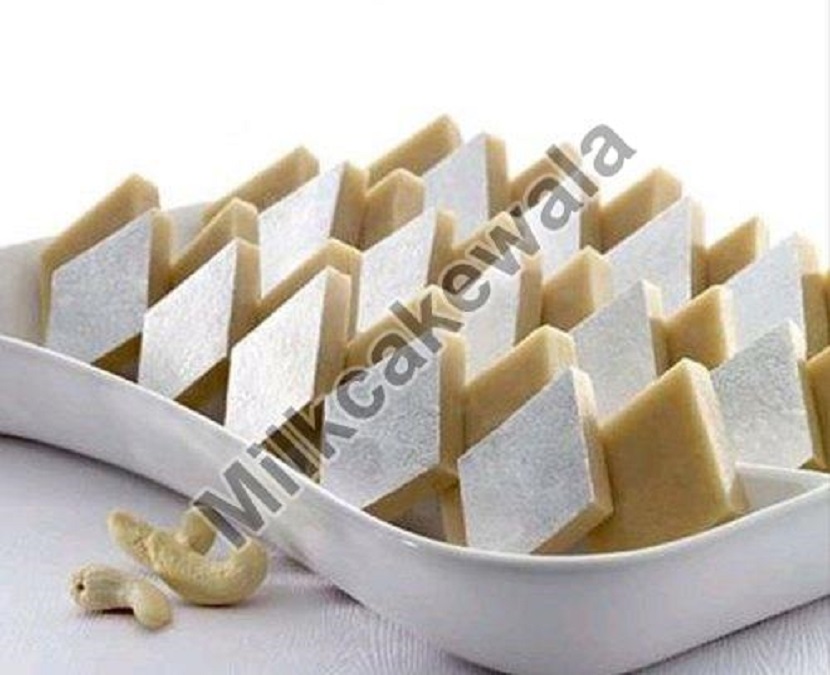 Indian desserts enjoy significant popularity among people in all parts of the globe. This is probably because most countries have a hefty population of Indians who keep introducing different varieties of Indian sweets in the foreign cities and towns they live in. Here you can learn about one of the most loved Indian desserts: Kaju katli or Kaju barfi. Furthermore, we will also be updating you with most favored festivals during which this special and delicious dessert supplied by Kaju Katli Exporters in India is particularly served.
What are the main ingredients used in Kaju Katli?
Kaju katli can be described as a dessert or candy made with lots of cashew nuts and sugar. While cashew nuts are the primary ingredients of this sweet dish, there is a range of other essential ingredients confectioners used for making this Indian dessert, without which the item will not get the mouthwatering taste it usually has. The other essential ingredients required for making the sweet are sugar, clarified butter or ghee, condensed milk, cardamom, and flavouring agents of the confectioner's choice. With it, confectioners also use a range of other ingredients.
These days, Kaju katlis are liked by people all across the India. However, it was originated in western territories of the country. Even today, if you want to taste the most authentic version of this dessert, you must visit places like Mumbai, Ahmedabad, Surat, etc.
Additional flavours added by Kaju Katli producers:
While some katlis contain saffron or rose water as their flavouring agents, stores also sell simpler ones flavoured with cardamom. These days, confectioners have also started selling Kaju katlis boasting exotic flavours like strawberry, chocolate, butterscotch, mango etc. At times, confectioners dont use any other flavouring agent besides cardamom. Kaju katlis without any additional flavour are the basic ones and probably the most popular ones made in India.
Although the basic form of this sweet is the most popular, confectioners often use different flavours to add a bit of improvisation to this Indian dessert.
Saffron is one of the most common flavouring agents for all sweets made in the western part
of the country, so, often, you will see shops selling saffron-flavoured Kaju katlis. Another flavouring agent used widely for this purpose is rose water. The aroma of rose water is pretty mild and can enhance the taste of any sweet dish.
However, despite being extremely tasty, katlis carrying those flavours cannot beat the popularity of the basic Kaju katli.
Let us now come to the festivals during which Kaju katlis are primarily served. This mouth-watering Indian dessert is primarily served during the
Festival of light of Diwali,
The festival of colours or Holi and
Two times celebrated in a year Navaratri.
How does Kaju katlis help benefit your health?
These sweets are extremely tasty, and their taste can easily be the only reason for consuming them; however, they also offer certain health benefits. This is because cashew nuts are good for our health in many ways being the main ingredient used for preparing them.
1. Cashews are good for keeping blood pressure under control
People with high blood pressure can have cashew-rich Kaju katli at any festival. You may wonder why because of the sole reason that cashews have a nearly very low amount of sodium. This, however, is the case when you have sweets made from the unsalted version of cashews. Moreover, cashews contain a fair amount of potassium, which helps control blood pressure.
2. Have cholesterol-reducing properties
This is a condition when you don't go overboard with the consumption of Kaju katli; high access is never good. Cashews are full of omega-3 fatty acids and other unsaturated fats, which are good. Oleic acid and omega-3 fatty acids are good for health by reducing bad cholesterol in the body.
3. Diabetic People can enjoy Kaju katli
Supplied by Kaju Katli Exporters in India, it is famous among diabetic. This is because cashew nuts have a low glycemic index. Magnesium-rich calcium can help lower the risk of diabetes.
4. good for heart health
Cashew-rich homemade Kaju katli is good for heart health as you consume them healthily and avoid overeating. Unsaturated fats and omega-3 fatty acids in cashews are good in lowering triglycerides levels. These help in keeping your heart healthy.
5. Protein-rich cashews can improve strength
A 100 gm of cashew contains around 36% of your daily recommended protein intake. Protein is a nutrient that acts as cells' building blocks and is important for overall growth and development. Cashews also contain magnesium, which helps absorb calcium in the body. Including cashews in your diet can improve your bones and muscles, thus improving strength.
While many people like to make Kaju katli at home, others buy them in abundance from sweet shops or online Kaju Katli Exporters in India as it is one of the most delicious Diwali mithais.
Does Kaju katli expire soon?
If you want to know if these traditional Indian sweets have an expiry or not. Yes. It has a specific shelf-life. Actually, different sweets have different spans of shelf life; khoya burfi has a shorter shelf life than the boondi laddoo.
According to a guidance note by the Food Safety and Standards Authority of India (FSSAI) on traditional Indian milk products, the shelf life of Indian sweets depends on their ingredients. It is the responsibility of the Kaju Katli manufacturer in India to clearly mention the date of manufacturing and the 'best before' or 'use by date on the labels.
Benefits of buying from leading Kaju Katli Exporters in India:
• They take extra effort to maintain high-quality standards.
• Timely deliveries are the most important factor they consider so that the quality is not at all compromised.
• Kaju Katli manufacturers in India have also started online delivery, so ordering this kind of sweets is easy. So, without the hassle of going out to the market, people can easily enjoy it by ordering from these food delivery apps.
• They have set up massive manufacturing units for its supply to be quick.
• Top Kaju katli exporters in India have developed some good packaging techniques to make it more travel friendly.